California Side by Side Society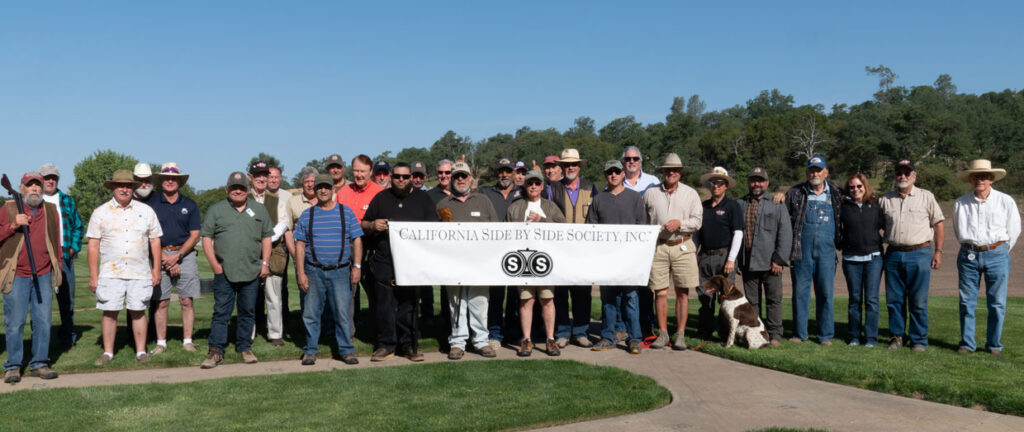 CA Side by Side Society: State Championship & Exhibition 2022
Grouse Butt Shoot May 7  9:30 am
Camanche Hills Hunting Preserve
2951 Curran Rd, Ione, CA 95640     (209) 763-5270
Lunch from their menu.  Raffle to follow the shoot.
Display SxS theme is "English Guns".
SoCal 100 rd Sporting Clays
Saturday, May 20
⋅

8:30am – 1:30pm
Triple B Clays
831 Rosemead Blvd, South El Monte, CA 91733
Description:50 targets 12 ga. 50 targets sub ga. Cost $75.00 includes Donuts and Lunch.Trophies awarded for Master Class, A Class B Class and C Class, Also Best Display.
COME JOIN US
HELLO AND WELCOME,
The California Side by Side Society is a group of men & women dedicated to the collection, preservation, heritage, and enjoyment of the side by side shotgun and rifle.  No other gun elicits the romance of history and gun-making like the side by side.
If you love the Side by Side like we do, you might consider joining in the fun. We don't just appreciate our guns. We shoot 'em too!
Every year, each of our chapters host many events at their perspective local shooting ranges. All of which culminates into a Statewide Championship in 7 different events such as Sporting Clays, Doubles Trap, Continental, Duck Tower, 24yd Trap, Sub Gauge, and Single barrel Trap 25yd.
We hope you'll visit back often as we're adding to the website every week. Look for more information soon and be sure to join our newsletter.
Find out what these ol' boys are talking about by signing up for our CASXS Email Newsletter. You can always opt-out of the newsletter at any time.
Hopefully we'll see you at one of the many CSXSS sponsored shooting events.